Sold the following watches to a friend this summer.
Tudor 79260
Tudor 79090
New Speedmaster 3570.50
Tudor 79280
Tudor 79190
Apollo 11 35th anniversary limited edition sold in May 2009
Seiko Eath Globe Watch sold on July 4 2009
175.0034 Omega Classic Moonphase Sold on July 27, 2009
Japanese Speedy 3570.40 Sold on Aug. 6
Three IWC Tribute to Japan 2009 Limited to 100 Pieces one sold on Sep. 7 and two in Oct. 24
Omega speedmater apollo 11 25th anniversary model C861 movement
Omega speedmaster Schumacher yellow dial 3510.12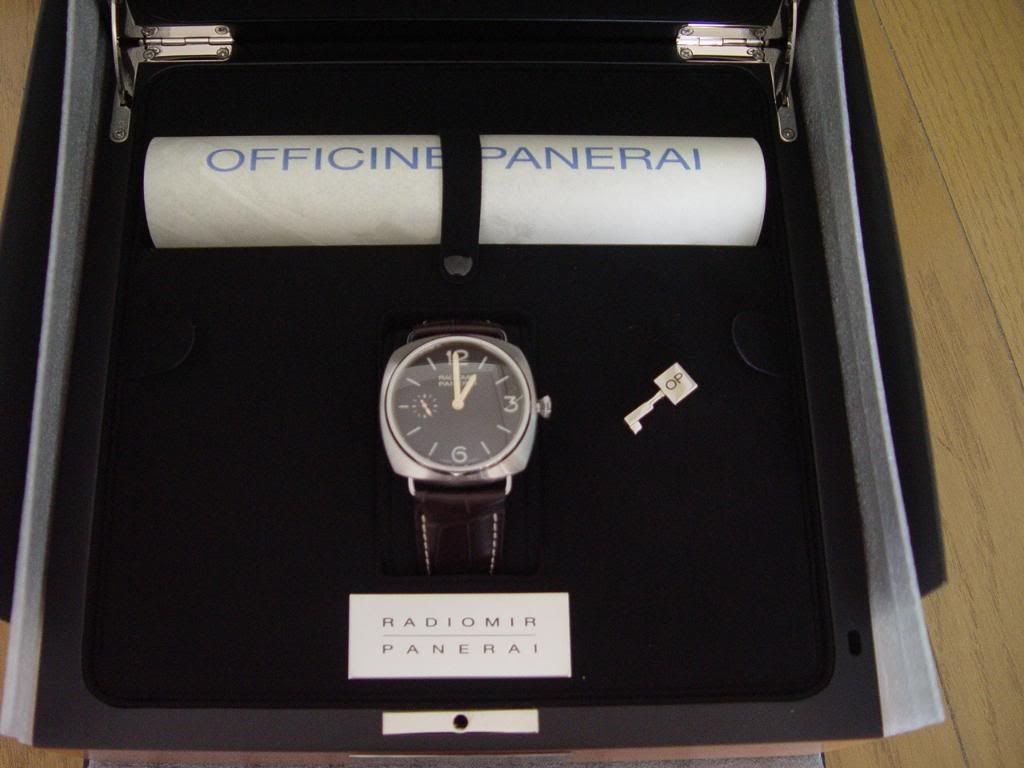 Galaxy Express 999 Special Edition
sold on October 13 to Thailand
And two IWC
Nov. 21, 2009 Sold out on ebay: Omega speedmaster Skylab patch limited edition
Sold on Dec. 17 An Omega speedmaster Apollo 11 25th anniversary limited edition. (New old stock/not used)
This is an Omega Art Collection.
This pretty red Omega dedicated to F1 champion Schumacher
Seamaster
A beautiful Consterllation f300
A 2002 Limited Edition Seamaster
Omega Seamaster Chrono 2599.80 with P&B
Seamaster Jame Bond 2535.80 GMT with P&B
And this Speedmaster Professional Moonphase WHITE GOLD ref. 3689.30.31
Here, you can see a good review of this model
Another Speedmaster Professional Moonphase WHITE GOLD ref. 3689.30.31 (without paper and box and original strap)
Another Omega Seamaster Chrono 2599.80 without P&B
Omega Speedmaster Apollo 11, the 25th anniversary
35 years ago 1969 July 20 (US time) the first man walked on the moon. The launch took place at Kennedy Space Center Launch Complex 39A on July 16, 1969. The crew was Neil Armstrong who was the commander and together with Edwin E. Aldrin Jr.generally called Buzz Aldrin he stayed 2 hours 31 minutes on the Moon while the 3rd member of the crew Pilot Michael Collins, stayed in the Command Module.
Apollo 17 "The Last Man on the Moon"
Apollo 17 was the eleventh manned space mission in the NASA Apollo program. It was the first night launch and the sixth and final lunar landing mission of the Apollo program.
Launched: 7 December 1972 UT 05:33:00 (12:33:00 a.m. EST)
Landed on Moon: 11 December 1972 UT 19:54:57 (02:54:57 p.m. EST)

Eugene A. Cernan, commander
Ronald E. Evans, command module pilot
Harrison H. Schmitt, lunar module pilot
Apollo 17 was the last crewed NASA mission to land on the moon in the 20th century. The next crewed NASA mission to land on the Moon is very tentatively scheduled to occur in 2019 with Orion 13 mission.
I helped my friend in Singapore find a set of Rolex 1655 parts. I am very happy to see that my effort is helpful to other watch lovers. Very happy indeed! June 25, 2007
Apollo 11 "The Eagle Has Landed" Limited to 9999 pieces. Click to see high-defination pic.
This pretty 3523.81 speedy day-date is limited to the Japanese market only
Speedmaster 3191.50 18kYG with "27 CHRO C12" movement, sold when I was at Norway July 5, 2007
Totally, 999 pieces of this gold model were made. And 35 out of these 999 watches have been sent to the moon at MIR space station. The watches were taken to the Mir space station to determine the long-tem effect of zero gravity on a watch's movement. After one year in space, the watches were returned to Omega and were all found to be functioning perfectly. This series of watches has therefore spend more time in space than any other watch.
A beautiful Ladies watch was sold on July 25, 2007 to my good friend!
Another set of Apollo 17 "The Last Man on the Moon" 3574.51 was sold on July 27, 2007. This set has a book "The Last Man on The Moon" signed by Cerman.
3570.50 was sold on Aug. 1, 2007 to my friend in UK
On August 29, I helped a TZ friend find this Japanese Speedy 3570.40 (on the left. The one on the right is mine.)
It is Omega speedmaster 3570.40 that is limited to Japanese domestic market. Only 2004 pieces were released in 2004 to celebrate the 35th anniversary of Moon Landing. The watch is also known as a Mark II reissue.
In 1969, Omega released Mark Series as a new subline of the Speedmaster Professional, the moon watch. The case shape of the Mark series was designed to be different from that of original speedmaster professional series. And, in particular, one of the variants in Mark II bears the orange hands of totalizer. This model with the exotic dial color has been a sought-for until today. Note that the case is not the same as the moon watch case. However, as true for everything, the original is the best. Thus, Omega has stopped producing the Mark series and come back to the case shape of moon watch.
In 2004, Omega reissued a speedmaster professional with the exotic orange hands again. Fortunately, it is not in the case shape of Mark series. But it is in the case of the case shape of the famous Omega Professional series.
This reissue of the Mark II bears the exotic dial and more importantly, it is in the beautiful case shape of Omega professional series. The movement is the Lemania based Omega 1861 which is used on the moon. Hesalite crystal. WR 50 m. Power reserve 48 hours. But it is not numbered. This may the one of the reasons that these watches are cheaper than Snoopy, the blue spacewalk 40 anniversary and the Apollo 15 35 anniversary.
Now even in Japan, this watch is very difficult to find in good condition, needless to say the western market. I have seen some used at lower prices than that I have offered. But they are in bad conditions with many apparent scratches.
Omega Seamaster 2531.80 Set
Omega Seamaster Professional 300M Automatic 2254.50 sold on September 10, 2007
2531.80 Omega Seamaster Known as 'bond' as it was appeared in 007 movie "Golden Eye" and "Die Another Day" sold on Sep. 26, 2007
This Speedmaster Day/Date 3520.50 was sold yesterday (Sep. 27, 2007). It has Vouljox 7751 based automatic chronograph movement. When you wear it you can feel the roter shaking and hear the sound. Good or not? Accroding to my test the accuracy of this watch is +0.3 seconds/day. Great, isn't it? The case size is about 39mm which is a bit smaller than my speedy professional. This model used to be my dreamed one. But not anymore. It is never compariable with my speedy.
This classical Speedmaster Moon watch 3570.50 was sold on Oct. 19, 2007 to a TZ friend in Neitherland.
New-Old-Stock Japanese Speedmaster 3570.40, sold on Oct. 23, 2007 to a TZ friend in US
With my JP speed on the back.
Seamaster 120 Ref. 2501.21 white face was sold on Oct. 30, 2007 to my friend again.
Speedmaster Professional 3570.50 Sold on Nov. 9, 2007
Omega Speedmaster Gemini 4 "First Space Walk" Limited Edition Ref. 3565.80 sold on Dec. 03, 2007
Here is a good review Review by Jorge.
This special Speedmaster model, created for Baselworld 2005, commemorates not only the 40th anniversary of the first space walk, but also the 40th anniversary of the Speedmaster's flight qualification for manned spaceflight missions.

These important milestones are celebrated with a distinctive model with a blue dial and matching blue aluminum ring on the steel bezel. Only 2,005 pieces will be made.

The Gemini 4 limited-edition Speedmaster is characterized by its blue dial and silver counters for the 30-minute and 12-hour chronograph counters and continuous seconds. The blue theme is also continued on the bezel, with the familiar tachymeter scale reproduced on a blue aluminum ring. The commemorative nature of the timepiece is indicated by a subtle red engraving 1965-2005 below the Speedmaster name at 12 o'clock on the dial.

The applied Omega symbol above the name, as well as 12 rhodium-plated hour markers, also add a hint of luxury and indicate that this Speedmaster is special. In all other respects, the watch remains a classic Speedmaster, with the same case, bracelet and hesalite crystal found on the "Moon Watch" - the standard Speedmaster Professional model. Movement is the hand-wind Omega caliber 1861.

However, one of its most striking features is destined to remain hidden most of the time, since it is the distinctive Gemini 4 mission patch, bearing the names of the crew, McDivitt and White, and an illustration of the first space walk, that is etched in colour on the sapphire crystal case back with the engraving "First Space Walk 40th Anniversary" and the limited-edition number (****/2005).
Another set of Gemini 4 sold on Dec. 8 to US
X33 2nd generation titanum sold to my friend in UK on Dec. 18
Again a set of Gemini 4 sold to a TZ friend in Italy on Dec. 18 2007
Japanese Speedmaster Reduced 3510.52 sold on Jan. 20, 2008 on Ebay
Omeag Seamaster 2589.30 US Limited Edition Sold on Ebay on Jan. 26, 2008
Rolex 5500 sold on Jan. 28, 2008 to Hongkong. This model is issued to the UK market in 1970s with a hack movement.
New-old-stock Japanese Speedmaster 3570.40 sold to US on May 21, 2008.
Another Japan Speedy was sold May 29, 2008
Omega Seamaster 2254.50, sold on Aug. 2, 2008
***